An art project that brings about expression through encounters transcending "differences"
TURN is the umbrella term for an art project that brings about interaction in expressive form through encounters among diverse people, transcending differences in customs and background such as disabled/non-disabled, generation, gender, nationality and living environment. TURN was launched in 2015 as one of the Tokyo Metropolitan Government's leading projects in the cultural program of the Tokyo 2020 Olympic and Paralympic Games. Since 2017, it has been implemented as part of the Tokyo 2020 Cultural Olympiad.
This movie is in Japanese only.
The four programs that make up TURN
In the TURN Interactive Program, artists make repeated visits to social welfare facilities and communities of people requiring social support, interacting with members and participating in cooperative activities. In TURN LAND, settings for the day-to-day implementation of TURN's activities are created in local communities. With these two programs as a foundation, the significance of TURN is widely disseminated through the programs TURN Meeting and TURN FES.
Views of the Interactive Program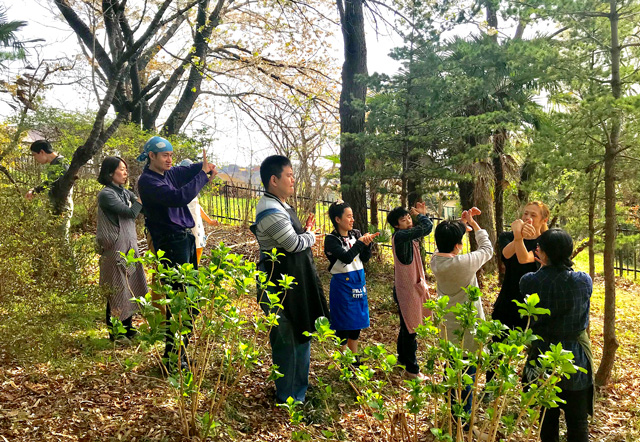 Kaiji Moriyama and Atelier La Mano
Atelier La Mano is situated in a small semi-rural area of Machida City. Together with people who have various disabilities including autism and intellectual disabilities, they make craft items such as dyed and woven products and undertake creative projects. In the natural setting of La Mano, dancer Kaiji Moriyama spent time with the people who use the facility and presented an improvisational performance.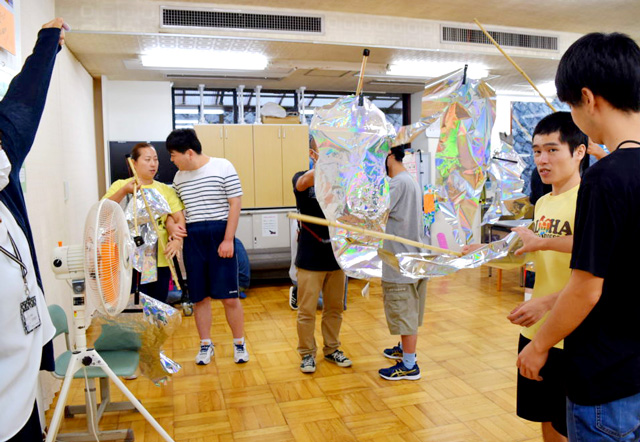 Kentaro Onishi and Itabashi-ku Komone Fukushien
Established by the Itabashi-ku district of Tokyo, Itabashi-ku Komone Fukushien is a facility that carries out daily life support activities tailored to the special characteristics of its users, from people with multiple and severe disabilities to people aiming to join the work force. Together with users of the facility, artist Kentaro Onishi carried out the project "Kaze Aruki," outdoor walks in which participants fly "Miirairai," cut-out figures modeled on themselves.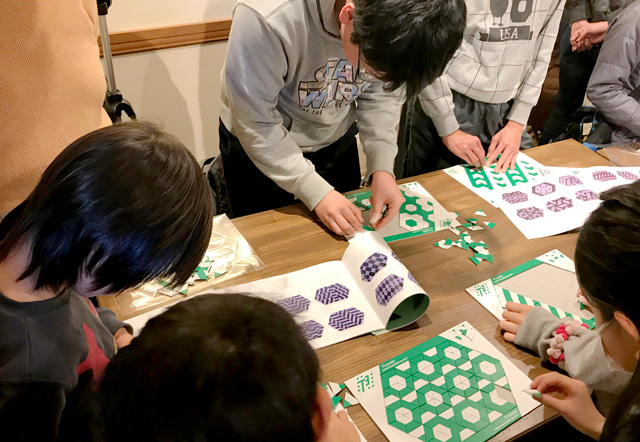 Kodomo Conference (Kimagure Yaoya Dandan)
Known for creating the Kodomo Shokudo cafeteria, Kimagure Yaoya Dandan has developed "Otona Zukan" (Illustrated Encyclopedia for Adults) together with artist Daisuke Nagaoka. The invited guests, grownups who do unusual types of work, are people whom most of us would be unlikely to meet in daily life. Together with children, we will think about ways of working and ways of living.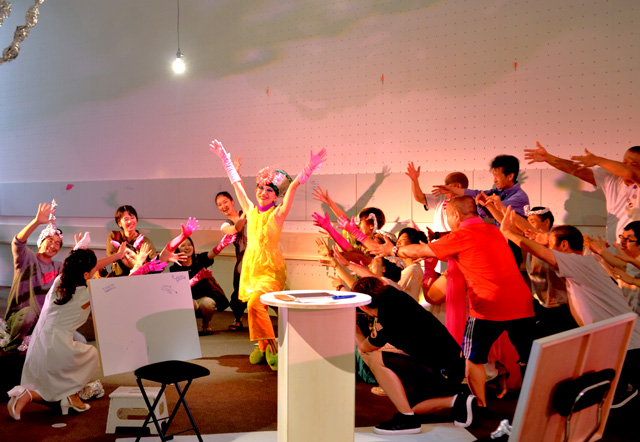 Emi Tomizuka and Madame Bonjour JohnJ
At TURN FES 3, the theme of which was accessibility, artist Emi Tomizuka and drag queen Madame Bonjour JohnJ produced the no-talking space "A Square of Light." Together with TURN Fes visitors, we enjoyed richly expressive communication achieved through non-vocal means.
Supervisor: Katsuhiko Hibino (Artist; Dean of the Faculty of Fine Arts and professor in the Department of Intermedia Art, Tokyo University of the Arts)[Profile]
Project Director: Tsukasa Mori (Project Coordination Division Program Director, Arts Council Tokyo)[Profile]
Organized by: Tokyo Metropolitan Government, Arts Council Tokyo (Tokyo Metropolitan Foundation for History and Culture), the nonprofit organization Art's Embrace, Tokyo University of the Arts