TURN LAND project in Operation throughout Tokyo during February and March 2018
2018.2.9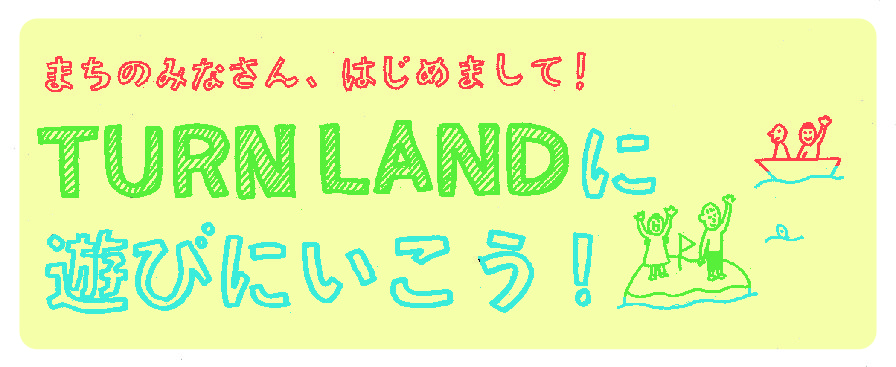 The TURN LAND initiative that began in 2017 is getting into gear at each of the facilities acting as interaction hubs. From February through March 2018, organizers will hold open events that the general public can join. Get yourself along to the various participating facilities while you can !
"Kodomo Conference" (2nd Illustrated Encylopedia for Adults)
Artist: Daisuke Nagaoka
Schedule: Monday, February 12, 2018 (observed holiday) 13:00 – 16:00
Adult guest: Yoshiaki Araki (Mathematician)
Venue: Kimagure Yaoya Dandan (1-17-9 Higashi-Yaguchi, Ota-ku, Tokyo)
No reservation necessary, capacity 25 (first-come-first-served on the day)
For "Illustrated Encyclopedia" events, we invite adult guests who do unusual jobs you don't come across very much in everyday life. By hearing about their jobs and the way they work, we will explore a glimpse of the future together with the children. This time around our guest is mathematician Yoshiaki Araki. After the talk we'll do some "shikitsume" educational puzzles!
Harmony (Kamimachi Harmony Land)
Artist: Takafumi Fukasawa
Schedule: Friday, February 23 — Saturday, March 3, 2018
* Close on Sundays
Venue: Harmony (3-4-1 Setagaya, Setagaya-ku, Tokyo)
Reservations required
Harmony is a facility in Kamimachi, Setagaya-ku mainly attended by people with schizophrenia. For the Kamimachi Harmony Land project, Fukasawa got his inspiration from the idea that for facility users, auditory hallucinations and delusions function something like the early belief systems that were designed to help people get through life; and that there are as many multiple realities coexisting at Harmony as there are facility users. Based on his inspiration, the artist and the participants are able to experience reality as Harmony members perceive it, through actual interactions and visits.
Please visit the Harmony blog for more details including how to make a reservation!
Atelier La Mano (Hand Project: Cotton and Thread)
Artist: Yasuaki Igarashi
Schedule: Sunday, March 11, 2018 9:00 — 16:00
Venue: Atelier La Mano (5-14-18 Kanai, Machida-shi, Tokyo)
At Atelier La Mano, workers with learning difficulties engage in dyeing and weaving using natural dyes and materials, and art-related activities. Together with artist Yasuaki Igarashi, who has conducted TURN interactions for the past three years, workers will create a cotton field on La Mano property. Facility users and local people will work together on first tilling the soil in March, then sowing the seeds in May, and after harvesting the cotton from October through November, they will even spin the thread and dye it using indigo.
Please see the La Mano blog for more details.
ITABAHI KOMONE FUKUSHIEN ("O" Dance Project)
Artist: Kentaro Onishi, Atsushi Miyata
Joining Kentaro Onishi and KOMONE FUKUSHIEN, who have collaborated constantly on the Interactive Program for two years, is new project member, artist Atsushi Miyata. Together they will start the "O" Dance Project in the second half of the year.
The project will offer new ways to encounter the body and enjoy it, based on the concept of "O". Public practice sessions are also in the pipeline!