Atelier La Mano in Machida City, Tokyo, makes hand-dyed and hand-woven products using natural dyes under the philosophy of connecting with society through artisan production and handwork. Since 2017 La Mano has been the setting for the TURN LAND "Hand Project" developed with artist Yasuaki Igarashi. Focusing on actions, practices, and creative expression related to the hands, the Hand Project involves cultivating a field from scratch to make cotton with members of the local community and the public.
The spread of COVID-19 in 2020 meant the project was implemented online as the "Tele-Hand Project" as a means of connecting participants. Participants cultivated cotton in their gardens or in planters at home, sharing updates and photos of its growth, together with things they discovered or noticed.
■ A session held at La Mano for the first time in months
From May 2020 the program had been conducted online, but for the fifth session of the "Hand Project 2020," participants gathered at La Mano with the cotton they had grown, with preventive measures in place to prevent the spread of COVID-19.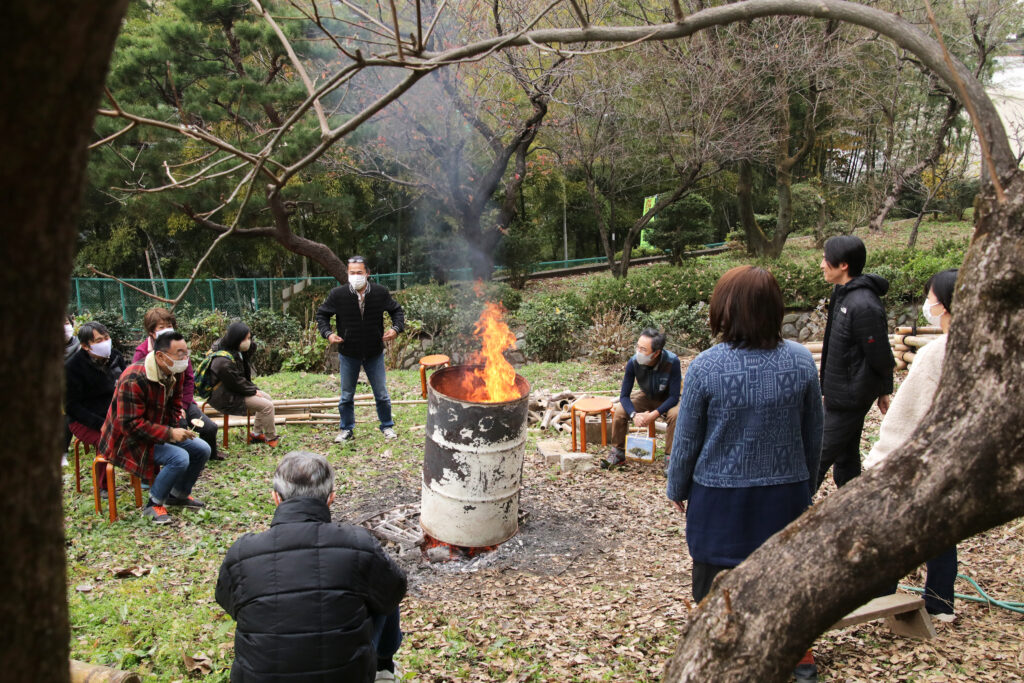 In the first half, participants gathered around a bonfire outside and shared the reasons why they had wanted to take part in the Hand Project.
One participant growing cotton in his neighbor's field said he thought he had picked about 20kg this year, and hoped he could at least make a T-shirt with the cotton he had grown himself before he died.
A La Mano staff member commented on their fond memories of watering the cotton plants every day during summer with faclity members, many of whom liked water.
Though unable to meet directly with La Mano facility users for activities during 2020, the participants learnt that indirect contact could be generated through making cotton.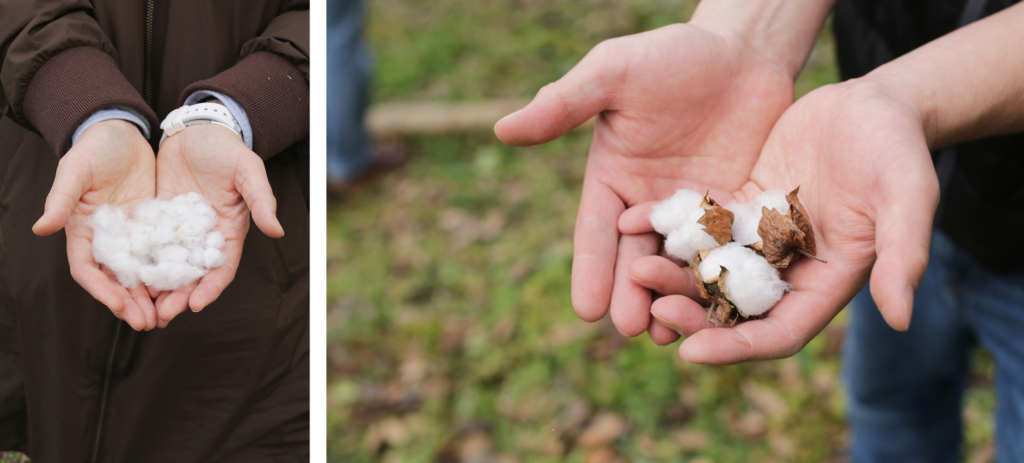 ■ Realizations generated from opening the place to public
In the latter half, everyone moved to the field to harvest the cotton. Yellow gingko and yuzu trees heavy with ripe fruit along the way gave a seasonal feel to the landscape. Experiencing the changing of the seasons together with participants through the abundant surrounding nature is the true pleasure of carrying out the project at La Mano.
Next, everyone moved to a room where La Mano facility users normally do their weaving, and Takuya Tomizawa of Tokyo Cotton Village gave a lecture on spinning yarn. After that, the participants carried on spinning, or took a break with a cup of tea as they pleased. I was struck by the different ways people spent their time at La Mano.
Igarashi commented that by physically being on site at the project, he had realized afresh the number of things he was able to experience through the various senses, and not just with the eyes and ears.