event
TURN FES 2
2017.3.3 - 3.5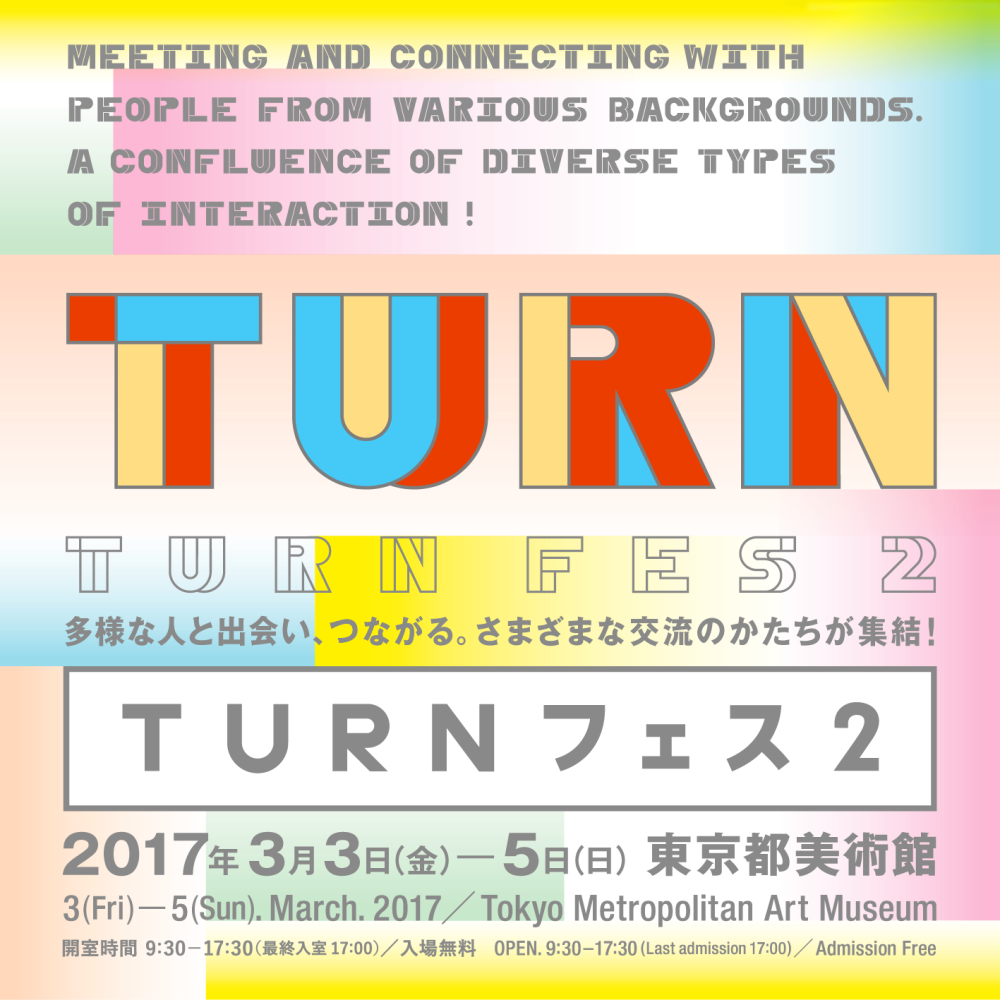 Meeting and connecting with people from various backgrounds: a confluence of diverse types of interaction !
Under TURN's interactive program, artists visit different locations catering to specific communities such as welfare facilities and educational support centers. The resulting interactions, which enriched the artists' relationships with staff, people using the facilities and their families, will be expressed at this event in the form of art works and performance pieces, or presented as the interactions themselves.
Additionally, Sunday, March 5 will feature a conference with guests. Come experience firsthand the diverse interactions unique to a project created by all involved.
Period

Friday, March 3 – Sunday, March 5 2017, 9:30-17:30
*Last entry 30 minutes before closing.

Venues

Citizen's Gallery 1 & 2 (1F) and Auditorium, Tokyo Metropolitan Art Museum
*The auditorium will only be used for the conference on Sunday, March 5.

Admission

Free

Credit

Organized by :
Tokyo Metropolitan Government, Arts Council Tokyo (Tokyo Metropolitan Foundation for History and Culture), the nonprofit organization Art's Embrace
Cooperated by :
Tokyo Metropolitan Art Museum & Tokyo University of the Arts "Tobira Project "
Participating artists with partner facilities/communities
Fifteen groups of artists and people from partner facilities and communities who participated in this year's interactive program will be taking part.
Yasuaki Igarashi × Atelier La Mano
Masanori Ikeda, Kazue Kawase × Kyosaren Recycled Bottle Washing Center
Satsuki Imai × Shure University
Kentaro Onishi × KOMONE FUKUSHIEN
Manami Kakudo × Ota City Support Center for People With Disabilities
Atsuki Takamoto × ASAHIGAWASO SOCIAL WELFARE CORP.
Daisuke Nagaoka × "Kodomo Conference"
Daisuke Yamashiro × Applause Minamiaoyama
James Jack × Harmony
Sam Stocker × Harmony
Kaiji Moriyama × Research and interaction with several welfare facilities and communities
EAT&ART TARO × Research and interaction with several welfare facilities and communities
Awai~ (Emi Tomizuka & Shinya Satoh Studio): Research on a space represents TURN and interaction
Haruchi Osaki: Research via his work "air tunnel" and interaction
Conference
Taking the word TURN as a starting point, the TURN Fes 2 conference will provide a forum for dialogue in which participants share their diverse experiences and values.
*No advance registration necessary. Sign language and speech-to-text support available
Date and Time

Sunday, March 5 2017, 14:00-17:00 (Open 13:30)

Venue

Auditorium, Tokyo Metropolitan Art Museum

Guest

Junya Yamaide (Executive Director, NPO"BEPPU PROJECT", Artist)
Shigeaki Enomoto (CEO, Zenchikyosai Inc.)
Katsuhiko Hibino (Supervisor of TURN, artist; Dean of the Faculty of Fine Arts & Professor, Department of Intermedia Art, Tokyo University of the Arts)
※出演者やプログラム内容等は、やむを得ない事情により変更になる場合がございます。
Access
Tokyo Metropolitan Art Museum
8-36 Ueno-Park Taito-ku, Tokyo 110-0007
Time required from the nearest stations
(1) 7 min walking from JR "Ueno Station" Park Exit.
(2) 10 min walking from "Ueno Station" Exit 7, Tokyo Metro Ginza Line, Hibiya Line.
(3) 10 min walking from Keisei Line "Ueno Station".
※ No parking area, so please refrain from coming by car