output
TURN NOTE: Words of TURN 2021
2022.2.10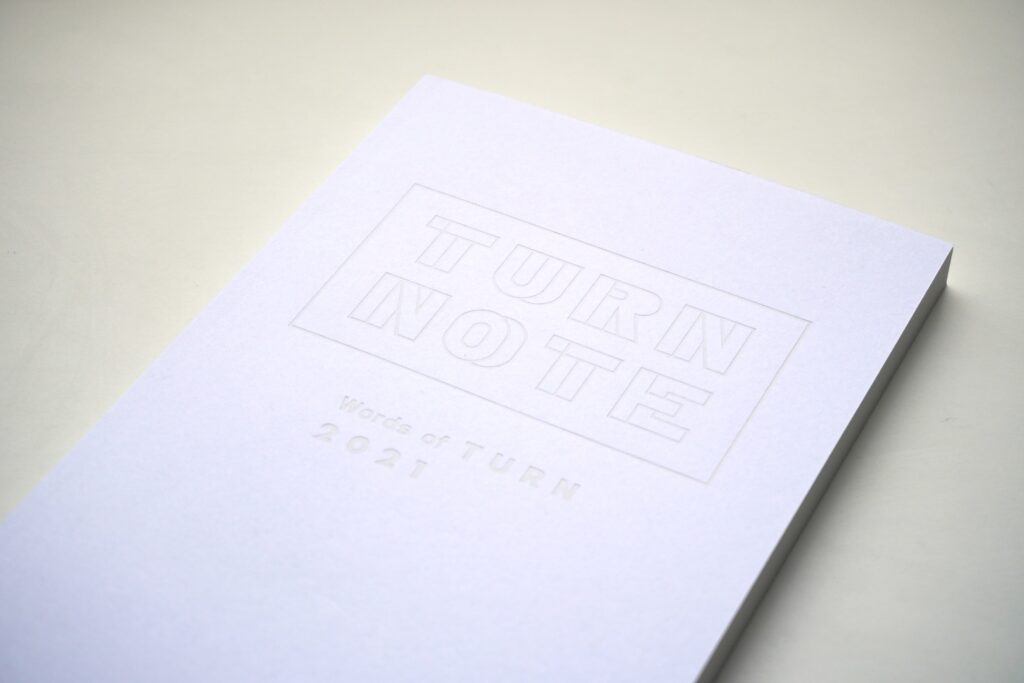 TURN NOTE attempts to gather words that can act as the means for people of different backgrounds to interact, document and share. We re-read or re-listen to recordings of the events, collecting a large number of words from daily reports and such from the past year.
This booklet, the sixth in the series, is subtitled "Words of TURN". It is a compilation of words that have spread from the activities of TURN, asking what others are feeling and thinking in this transitional period of society.
In addition, the booklet has a specification that readers can meet words by voice through a reading application etc. from QR code of the page where the texture of paper is changed.
Finally, this book also includes the texts written by the TURN supervisor, Katsuhiko Hibino. What does the message sent at the turning point of the year ask us again?
About TURN NOTE
TURN NOTE
Author profiles
About TURN
TURN 2021
Katsuhiko Hibino Statement
—
Editorial Supervisor: Tsukasa Mori (Project Director of TURN, Arts Council Tokyo)
Editors: Yuki Tamura, Takuto Higashino (the nonprofit organization Art's Embrace), Maria Hata, Tomohiro Hasegawa(Arts Council Tokyo)
Editorial Cooperator: the nonprofit organization Art's Embrace (Eriko Amo, Kanako Iwanaka, Laila Cassim, Makoto Tamaoki, Makoto Higashino, Misako Murakata, Marina Yamaguchi)
Arts Council Tokyo (Yasuhiro Misaki)
Design: Tanuki
Translation: Office Miyazaki Co., Ltd
Printing: Yamada Photo Process Co., Ltd
Published: February 10, 2022
Specifications: A5 variations
Number of pages: 136
*Japanese-English bilingual
You can download the PDF version from the link below.