diary
Atelier La Mano "Tele-Hand project" 2020: "From Cotton to Thread" Vol.1, Vol.2 Report
2020.7.31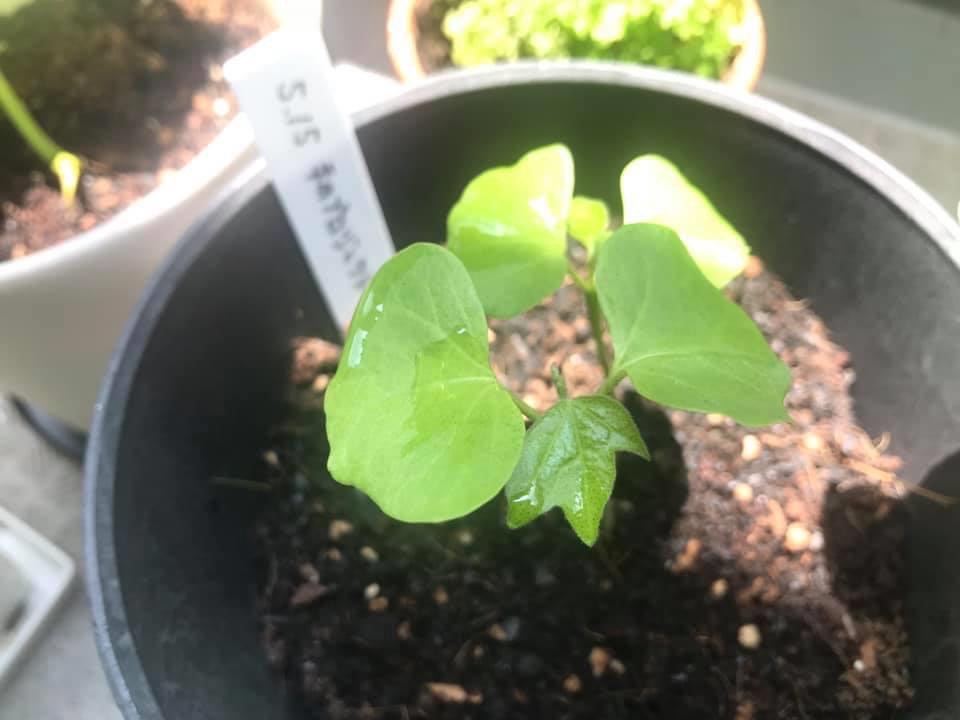 Based on the motto "forging links with society through handcrafting," Atelier La Mano in Machida City produces hand-dyed and hand-woven items using natural dyes. With La Mano as its location, the "Hand Project" has been developed with artist Yasuaki Igarashi as TURN LAND since FY 2017. With a focus on behaviors, practices and expression related to the hand, Igarashi cultivated a field from scratch together with people from the community and the general public, and is making cotton there.
This year, due to the spread of COVID-19, activities involving physically gathering at La Mano were unfortunately deemed unfeasible for the time being. The decision was made to launch an online initiative, the "Tele-Hand Project" with facility staff and Igarashi, as a viable project under the circumstances, in which participants could connect with each other.
For the "Tele-Hand Project", La Mano staff and project members (facility users) together with project participants from 2019, cultivated cotton in their gardens or on their balconies. Participants connect online through the sowing of cotton seeds on the same day, and the cultivation of the cotton plants.
Shifting the location of cotton cultivation from La Mano to people's homes seems to have changed the participants'everyday lives and the relationship between people and natural cotton.
On this page, we report on events held in May and June, and an the participant's tale on the growing cotton.
■It's time for sowing seeds again! ("Tele-Hand Project Vol. 1, May 2020)
Activities under the "Hand Project" ongoing since March 2018, were suspended from February due to the spread of COVID-19. It was also an unusually quiet spring at La Mano, with facility users engaged in activities at home from April onwards. In response to this situation, artist Igarashi and La Mano staff members put their heads together to come up with a project which took advantage of this unique situation. With this year's cotton sowing season approaching, the team launched a project for participants to grow cotton from where they are. In mid May, participants received a letter from La Mano. In it were some small seeds and some key points on how to sow them. It included some words from Igarashi.
———————————————————————–
"Tele-Hand Project"
The time we are unable to meet is the time for nurturing thoughts and feelings.
In each of our homes, we plant seeds on the same day,
Enjoying watching it grow, and thinking about our faraway friends.
When the cotton is ready, let's bring it and spin it into yarn.
Let's make yarn from the feelings we nurtured when we were unable to meet.
When the cotton is ready, let's meet again.
April 24, 2020 Yasuaki Igarashi
———————————————————————–

May 16th, the day of the event. The participants gathered online and on-screen to the sound of rain. During the self-introductions, given with slightly nervous faces, it was clear that participants had gathered from many different regions such as Gifu and Hokkaido, not to mention Chiba, Saitama, and Kanagawa – not just from Machida in Tokyo, where La Mano is based.
Then came the time to sow the seeds. While listening to points on seed-sowing from La Mano head Takano and previous La Mano guest participant Takuya Tomizawa from Tokyo Cotton Village, who gives lessons on Japanese cotton cultivation and hand-weaving, participants sowed their seeds at the same time in their gardens or on their balconies. In the field at La Mano, nameplates with each participants' names have been set up and next to the seeds which have been sown. We are looking forward to seeing which will bud first – the seeds sown at people's homes or those sown in the La Mano field.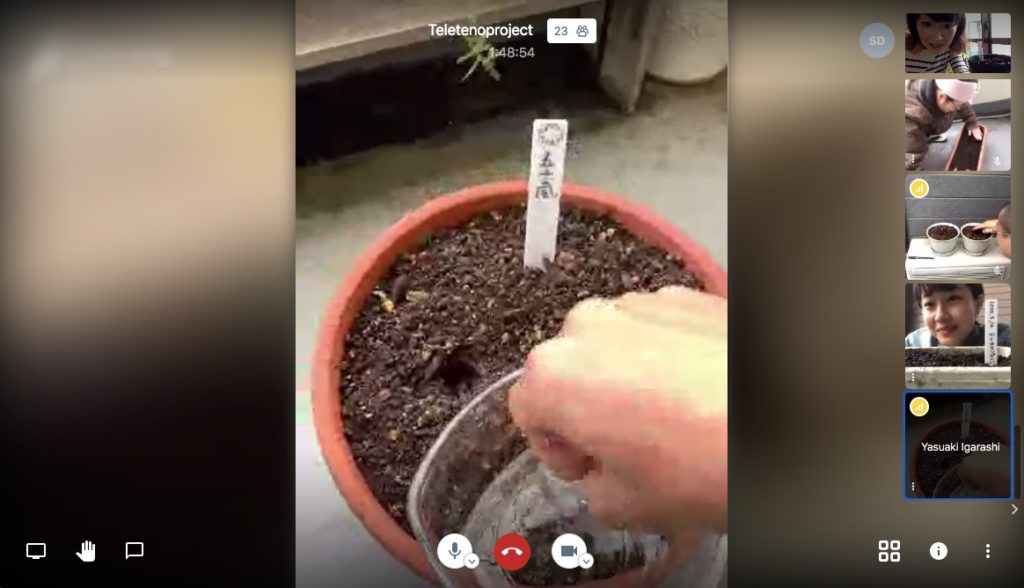 On the experience, participants' comments included "I enjoyed getting the seeds and sowing them with the others,"and "I'm looking forward to the seeds sprouting."
With the scope of activities narrowing under the state of emergency, getting seeds from La Mano and sowing them together with other participants in various places was probably an opportunity to consciously think of distant people and places.
At the same time, it made us realize that during the process of clearing the land at La Mano, working in the field, and sitting at a spinning wheel spinning yarn in the main building, friendly interaction had developed naturally between the participants.
We will continue to take on challenges through trial and error, in terms of what we want to focus on as extensions of the "Hand Project" as it goes into its fourth year, as well as in terms of activities that can only be done online.
■Then several days later…
Participants enthusiastically shared news and photos of the growth of their
cotton plants.
From the day following the seed sowing, some participants got in touch telling us how they checked the planter every day in anticipation of germination. Then five days after sowing the seeds, one person reported that they had started to sprout. After that people sent a succession of updates and photos detailing the germination and growth of the plants. Some people talked about them like they were children in comments like "I now have six buds, which means I have a family of six."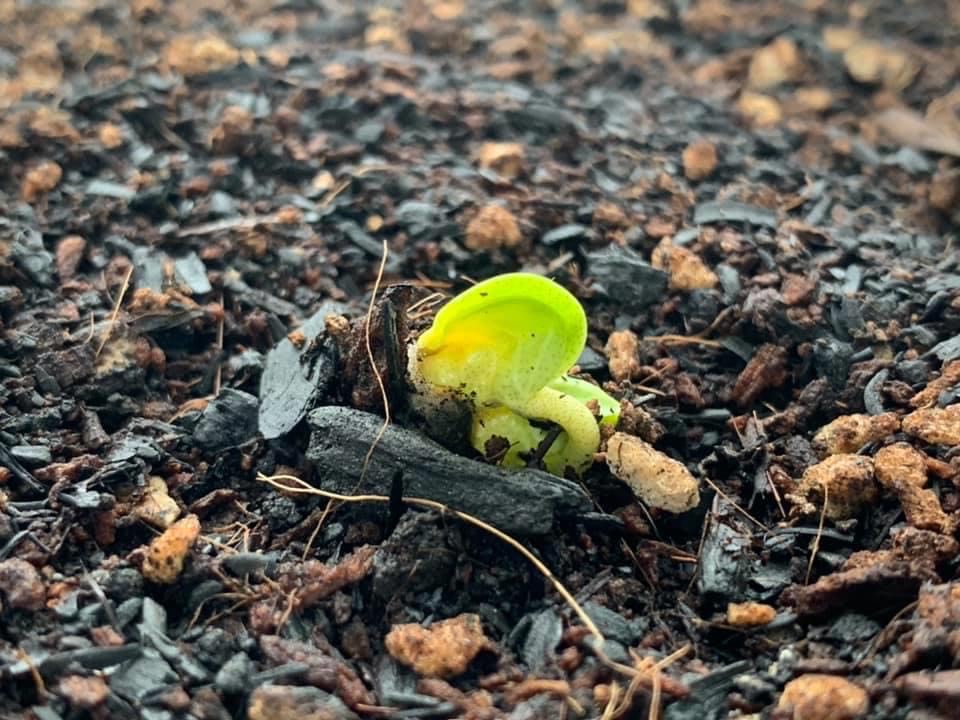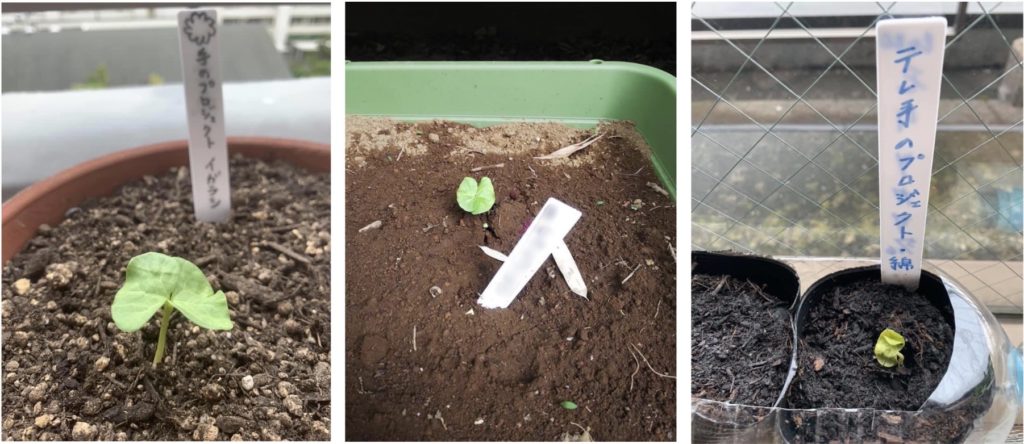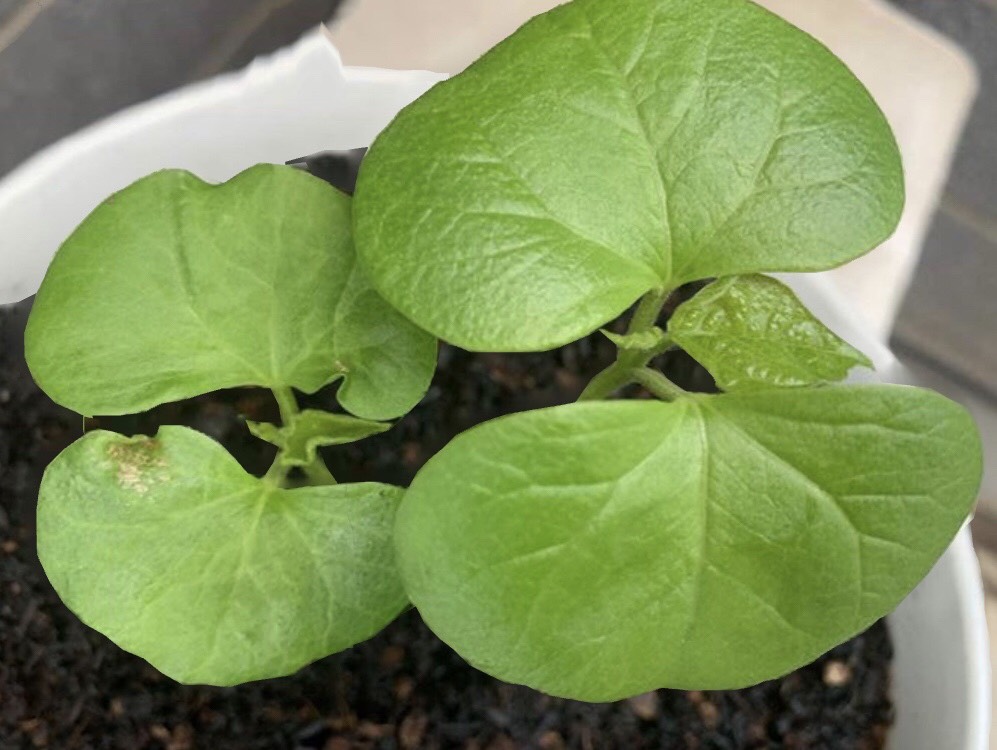 ■ 44 days after sowing the seeds (June 2020 "Tele-Hand Project Vol.2)
On June 28 we held the second session of the "Tele-Hand Project." Project members who sowed seeds in the previous session gathered again online.
For this session, based on an idea from artist Yasuaki Igarashi, participants talked about the time spent with the cotton plant to date as they touched the maturing stems and leaves.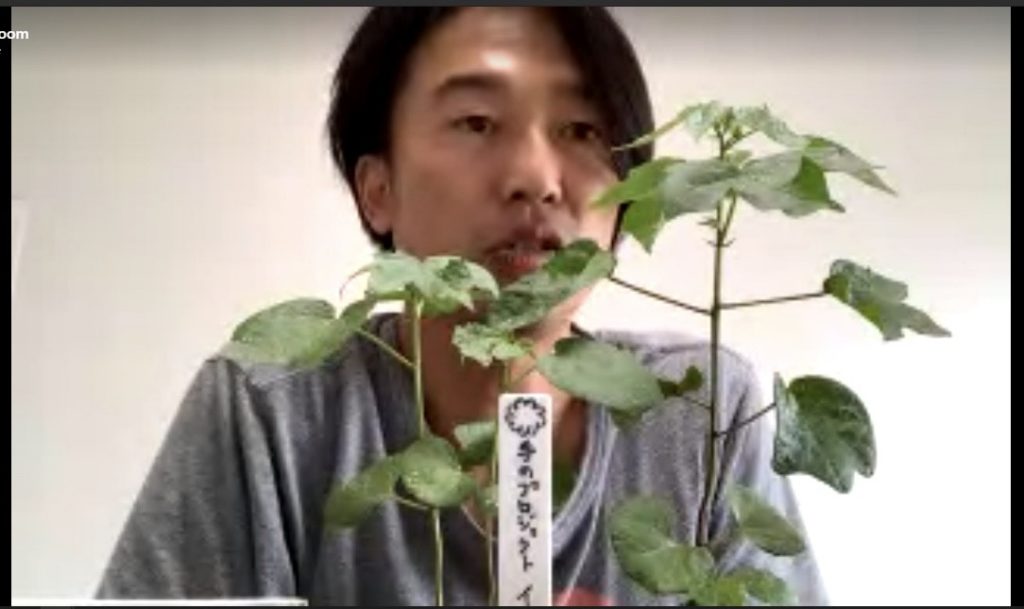 When asking about changes to everyday life as a result of growing cotton, we heard a variety of stories.
"I got ill, and my cotton plant became someone to talk to when I was alone at home, which made me feel better both mentally and physically."
"Before sowing the seeds, I took off too much cotton from around the bud and had a few days of worry before the buds sprouted."
"The postman called out to me 'Aren't they growing!' when he saw my plant outside the front door."
"Cotton also sleeps at night. And I noticed it wakes up at around 4am."
Commenting on participants' reactions, Igarashi said he thought that transferring cotton cultivation from La Mano to each participant's home had connected the cotton to their daily lives and produces a deeper relationship between the cotton and the person growing it.
Next, La Mano head Takano gave an online tour to see the La Mano cotton field. He headed to the field on the side of the small hill road where large hydrangeas bloom, and one by one introduced each cotton plant with the participant's nameplates next to it.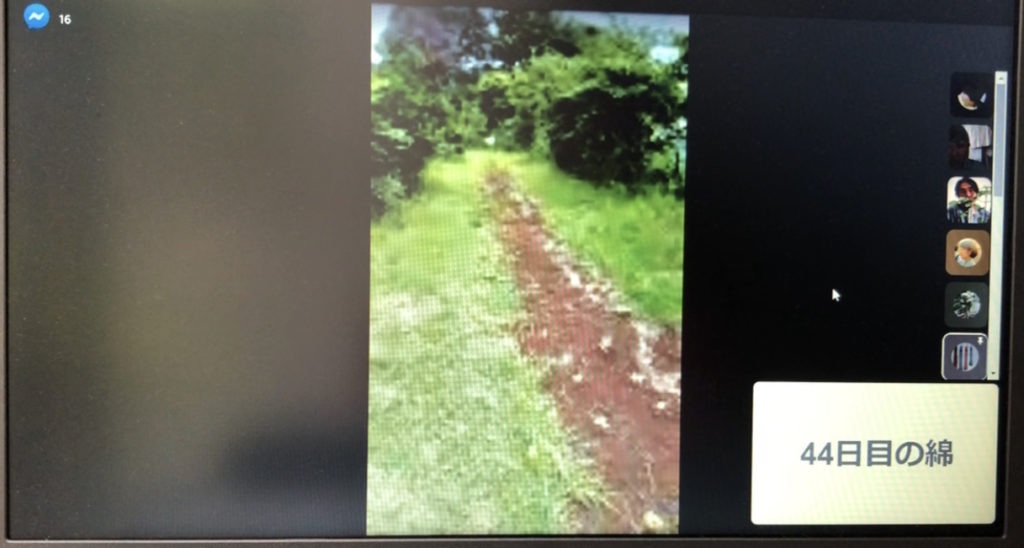 Tomizawa from Tokyo Cotton village also gave some pointers about methods for looking after the buds at this stage, such as thinning out and dealing with pests. Apparently milk can be used to combat aphid insects .
After the program finished, we held individual consultations on cotton growing methods. Along with providing specific advice to people worried that nothing was sprouting from the seeds they had sown, Tomizawa commented that germination was not the only mission for a seed. He added that they can be pressed for cottonseed oil and used as feed for livestock; and it may seem sad when seeds don't germinate, but your viewpoint changes when you realize that seeds have a variety of roles. Igarashi then noted that this tied in with the TURN philosophy. It was a moment when we realized the commonality between cottons seeds and TURN, in which people's differences are the starting point for the creation of artistic expression.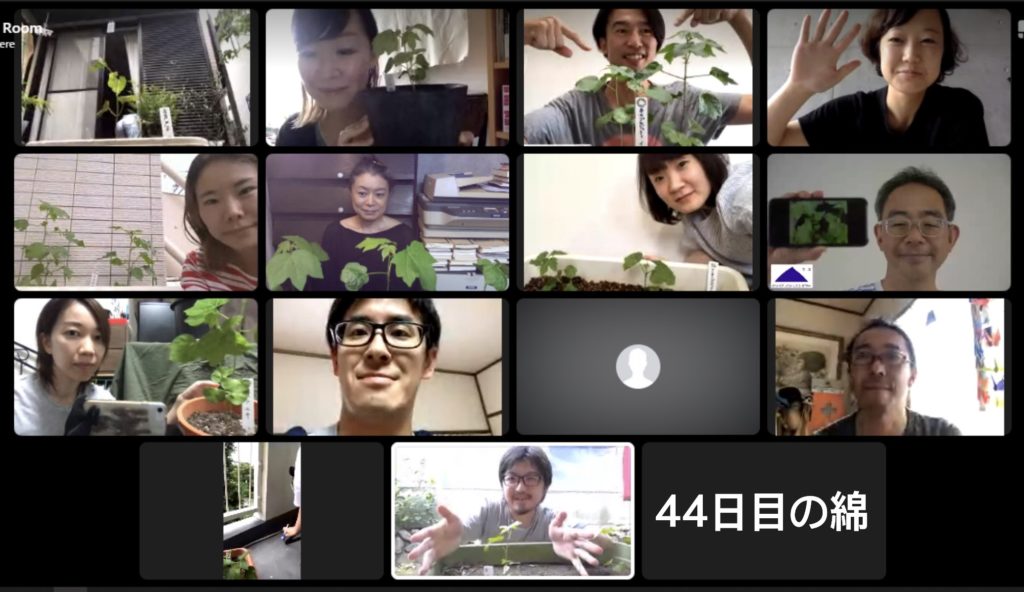 We plan to hold the next session of the "Tele-Hand Project" in August when the cotton flowers are beginning to bloom.
Going forward, we will continue to develop activities that connect participants online through the growing of cotton in their respective locations. And when the seeds turn into cotton in the fall, participants will gather at La Mano with the cotton they have harvested. Together we'll gather the cotton grown at La Mano and everywhere else, and spin it into yarn together.
We'll continue to report on the project on a regular basis. So please check it out!
Project outline
"Tele-Te Project 2020 Vol. 1 From Cotton to Thread"
Saturday, May 16, 2020 14:00 – 15:30 (online event)
"Tele-Te Project 2020 Vol. 2 From Cotton to Thread"
Sunday, June 28, 2020 14:00 – 15:00 (online event)
*We are not currently recruiting new participants.
When recruiting participants in future,we will inform you via our website and the TURN official Facebook page.